Synopsis
John Farrell Is Utrinque Paratus
- Ready for Anything -
by T.D. McKinnon
Action/Thriller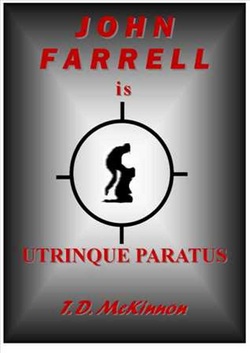 What is the picture you have of yourself? Everyone has an image of themselves; some keep that picture very private but everyone has one. Can you imagine any circumstance in which you might kill? And if you could, would that necessarily make you a bad person?
This is a story of tragedy, friendship, loyalty and enduring devotion; devastating treachery, betrayal, and murder most foul. Propelled by circumstance, John Farrell has to be 'ready for anything'(Utrinque Paratus) as he is taken on a rollercoaster journey from his coalmining community origins in County Durham to Aldershot, the home of the British army, and to war torn Belfast; from London to the poverty ridden streets of Mexico City; from inside the infamous Wormwood Scrubs, to the South of France, to Glasgow, the Scottish Highlands, Berlin and Bangkok. Along the way, influenced by the evil men do, inadvertently it seems, John kills: in desperation, in fear, in anger, in ignorance accidentally. Does that make John Farrell a bad person? You decide! Orphan, boxer, soldier, convict, writer, fighter, loyal friend, protector, loving family man and killer. Killing is something not only evil men do.
This is the story of one man's love for his family and the lengths he is prepared to go to safeguard that family. It is about hope, courage and human endurance in the face of adversity. Readers who enjoy a good thriller will love this compelling, character driven, gritty tale, and be able to relate to and empathise with its thoroughly believable if, by necessity, sometimes violent hero.
---
Reviews
By
David Laing Author (Deloraine, Tasmania) - See all my reviews

This review is from: John Farrell Is Utrinque Paratus (Kindle Edition)
Written mainly in the first person, the author, T.D. McKinnon, tells the story of one man's journey - John Farrell - through life, and as Bobby, one of the minor characters comments, `not one of us has led what might be termed a normal life,' which is certainly true of McKinnon's John Farrell whose journey through the years, from boyhood on, could only be described as extraordinary and it's here that the author's brilliance comes to the fore. The seemingly inextricable situations that he finds himself in are described in vivid, believable detail as are his attempts to get out of them using his own expertise whilst keeping his life and limbs intact. In his descriptions of these situations, the word pictures, particularly when describing the fight scenes are obviously technically correct in every detail, making me think that McKinnon has had personal experience in this field.
McKinnon's character development is a strong point. His vivid word pictures and his ability to delve into the characters' minds has the effect of making us care for John Farrell, his family and his many friends who all form an integral part of the story.
All in all, this fast paced, tightly knit tale is a first rate novel which I thoroughly enjoyed; it's many twist and turns and its underlying theme of good triumphing over evil, despite the many hardships and pitfalls that life may bring, make this book a must read.
Highly recommended, 4.5 stars.

David W Laing
Author of: `Forest Spirit,' `Forest Shadows,' `Forest Secrets'
Contributing author to, `A Tumble in Time.'
CLICK ON ANY ICON TO BUY YOUR BOOK!
---
Sample Chapters
John Farrell Is UTRINQUE PARATUS
- Ready for Anything -
by T.D. McKinon
Action/Thriller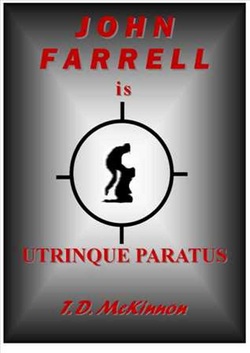 Chapter 1: IN THE SHADOW OF GUILT


On the rooftop of the thirty story office block, opposite and four floors above Craven's penthouse, I'm in full sniper mode and ready for the task at hand. It's been ten hours since I arrived in the early hours of this morning and set up my hide.

As Craven's Silver Ghost pulls up at the curb opposite, I snuggle the stock of the Remington against my cheek and focus my scope sight on the action taking place in and around the car; it's like a well oiled machine. The front passenger side door and the rear off-side doors are open almost before the Rolls stops; two sharp looking characters in plain, dark suits step quickly, simultaneously, out of the vehicle and two others quickly follow from the other doors. They're scanning 360º, each with their own arc of view, traversing vertically and horizontally. Something attracts the driver's attention and he seems to looks straight up at me. Thinking he's seen the reflected glare from my scope I hastily conceal it; however I obviously haven't been spotted because the next thing Craven's Close Personal Protection team are bundling him out of the nearside, rear door. I quickly level my rifle again.

"Had it been twenty years ago I would have had him as they hustled him into the building…" I say indignantly. "As it was, I couldn't be sure I wouldn't hit one of his CPP team… I couldn't take that chance."
"Shit!… He must have picked them up in the States; or I would have had some wind of it," comments Bobby.
"Yeh… that's what I thought. I watched them moving through the penthouse, searching every nook and cranny, until they'd swept it clean; then they closed all the blinds and curtains prior to, I'm supposing, ushering Craven into the flat."
"Well, there wouldn't be any point in hanging around after that. While that team's on the job the odds of getting to Craven are pretty slim."
"My thoughts entirely… that's when I got the hell out of there." Falling into silent contemplation, I sip my favourite single malt. It seems, for the moment, that Craven is out of my reach.
"I wonder…" says Bobby, coming out of his introspection, "if I can find out who these guys are?" and he goes into the next room to make some phone calls.
I'm still sipping the same glass of malt, staring into the pale, golden liquid when he returns a half hour later. "Definitely not domestic," he tells me. "I should know the details in an hour or so." We return to our meditations with another glass.
It's an hour to the minute when the phone rings and Bobby goes to answer it. Five minutes later, smiling from ear to ear, he comes back in and tops up our glasses before settling down; letting out a relieved sigh, he says, "They're a mob working out of New York: 'Protect International'. The team currently looking after Craven is a tight group of buddies; former 'Navy Seals'. They're supposed to be here for another five days, when they're relieved by another team flying in from New York. But, guess what? Surprise, surprise… our Mr Victor Craven hasn't been entirely honest… and I've just provided a more accurate picture." He smiled, took another sip of scotch and gave another sigh. "Now, we just wait for it to hit the fan."
Craven had billed himself as a legitimate businessman fallen foul of a rival business, who had then put out a contract on him. Bobby put the story to rights; specifically, that Craven was in fact an underworld figure hiding behind some legitimate business fronts. Furthermore, he was in danger, not from a hitman, but from a former British Airborne Forces veteran whom, along with the vet's son, Craven had put a contract out on because the vet's son refused to help him in a drug related crime. Bobby also gave details of how, after paying Craven a visit at his penthouse the first time, he'd killed two of his own bodyguards just to set me up on a murder charge.


We don't have to wait long. The following morning, at around 8:30 a.m., I watch the CPP team leave in a taxi. No replacement team arrives. There's no visible movement in the penthouse, not a curtain stirs. At around 10:00 a.m., five heavies pull up in a Jaguar; I recognise two of them from Craven's country property. It looks like Bobby has influence in areas Craven can't touch. Now, with only his thugs again, I wonder what his next move will be.
Two days later he still hasn't moved, or opened the blinds. Deciding to stir the porridge a little I fire fifteen-silenced rounds, five into each window, and then get out of there, leaving Bobby in a nearby café to observe the reaction.
The police arrive in droves along, of course, with the armed response group. They check out the whole street, including the café Bobby's sitting in. It's a couple of hours before the majority of them vacate the street, leaving one undercover car. An hour after that, when the last of the daylight has faded, Bobby spots Craven among a group of undercover cops moving quickly to their car. He tails them through the busy, London traffic to a place in St John's Wood.

Assuming they've taken Craven to a safe-house - which will give me a couple of days before they move him to another location - I act quickly. Big mistake!
"Drop your weapon, now!" the order comes clearly over a loud hailer, and I freeze. "Lie face down, spread eagle, on the floor… Now!"
Setting himself up as bait; Victor Craven, if nothing else, is a man of considerable internal fortitude. At 3:00 a.m. as I enter the building through a ground floor widow I'm suddenly illuminated, at centre stage so to speak. I comply with their every order, there's no point doing anything else, and all things considered they aren't too rough with me. Watching and listening, I try to assess whether there is an honest policeman there: not in the pay of craven; however, it's made pretty obvious there's no way I'm getting an opportunity to speak to anyone unattended.
Taken immediately to Scotland Yard, I am questioned extensively by several detectives over a five-hour period, during which time they try several different methods of interrogation. I of course tell them nothing, and maintain my request for a lawyer before answering their questions. Eventually, they lock me up in a cell and I manage to sleep for a couple of hours. After waking me, a different set of detectives begin the whole interrogation process again. I'm eventually charged with two counts of 'break and enter' at Craven's penthouse - but no mention of my visit to his country property - two counts of manslaughter, and two counts of 'first degree murder': all Craven's thugs. I'm then fingerprinted and, in line with a new policy, they take a DNA sample before locking me up.
I've had a particular law firm in mind for some time; it seemed like a good idea to at least give that avenue some consideration, just in case. Now, it appears, we have arrived at that 'just in case' juncture. If I don't show, or get in touch within twelve hours, Bobby is to presume something has gone wrong and engage the aforementioned legal firm. This legal firm, specialising in criminal law, possesses a brilliant track record. He is instructed to hand them the fully documented account I've been preparing, in journal form, from day one of this conflict with Craven. He should then disappear. His job then is to keep Connie and James out of the way, for the moment. Bobby, as usual, is right on the ball and when the police eventually allow me to make my call the lawyers are primed and waiting.

Sitting opposite me, Mr Franklin-Pierce is somewhere in his mid-fifties, average height, lean and impeccably groomed; his intense blue-grey eyes and silver-grey hair perfectly coordinate with the charcoal-grey herringbone of his three-piece suit.
"If all that you have set out in your deposition to us is correct, Mr Farrell, you are in an extremely unenviable position."
"Yes sir… I know that, but will you take my case?" Just at that point the cell door opens and four detectives literally flood into the room.
"Do you mind, gentlemen!… I am entitled to a little privacy with my client," says Mr Franklin-Pierce, assertively; more than a little put out.
I don't even have time to register that he, by way of his statement, has just accepted my case when one of the policemen announces, "John Farrell… you are hereby charged with the murder of Ronald David Jones… You are charged that eighteen years ago, on or about the 11th of July 1976, you did murder seventeen-year-old Ronald David Jones on Hampstead Heath…" He pauses, my jaw drops and I observe, all be it momentarily, my lawyer's jaw drop too. "You do not have to say anything, but anything you do say will be taken down and…" at about that point I cease hearing what the policeman is saying: my mind's eye is rerunning those few moments in the early hours on the morning of the 11th of July 1976.
"My client has nothing to say at this point in time."

A DNA data base was initiated in the UK only this year; following a routine cross referencing of my DNA they were rewarded for their methodical and systematic adherence to the new regulations.
I hadn't noticed on that dark morning, all those years ago, when I broke the boy's neck that the adhesive dressing on a cut finger had come loose, sticking to the side of his head. I now have the dubious honour of being the very first person in the United Kingdom to be charged due to the implementation of this new technology.

At a preliminary hearing we apply for but are denied bail and I'm whipped away to the detention centre at Wormwood Scrubs. The induction process is the introduction to the dehumanising experience of Her Majesty's correctional services; beginning by stripping naked in front of the warders and the other criminals being processed. My worldly possessions are taken from me, catalogued and locked away for the duration of my incarceration. I then wash with carbolic soap in a communal shower together with my fellow inductees, in full view of the guards. Before being issued ill-fitting prison garb, I am inspected to make sure I'm not carrying contraband. Apart from the fact that I was searched at the police station, where trouser belt and shoelaces were taken from me, I'm naked and have just gone through the showering process; you can imagine what's left to search.

"Open your mouth!" and this from a prison guard half my age. "Move your tongue to the roof of your mouth!... Lift your arms straight up in the air!" But of course the final indignation is to come. "Bend over and spread your arse-cheeks!"

Sitting here in my cell, staring at the walls, I can't help wonder how the hell I came to this? What quirk of fate? What set of unfortunate circumstances brought me to this juncture?

Chapter 2: Humble Beginnings

Born just after the Second World War into a coalmining family in Lampton, County Durham, my earliest clear memory is in our National Coal Board home.
Ma is bent over the sink, using an old scrubbing board to do the daily wash. Da and my brother are just leaving for the back-shift. My three sisters are still at school, being in infant's school I get out earlier.
Geordie, my brother, is sixteen and, after being on the dole since leaving school, has recently started work. Da's happier because now Geordie is helping to support the family. Ma's happier because she can put a better spread on the table at mealtimes, and she doesn't have to worry so much about Geordie getting into mischief. My sisters and I are happier because he's hardly ever around to tease us anymore. Geordie's happier of course; having a beer on the way home with Da on paydays, he can call himself a man now and, when he's not working, he's allowed to be out pretty much when he wants as long as he's home by eleven o'clock; when Da locks the door.

I started school last week and I'll be five next week. I have a thirteen-year-old sister, Elizabeth, who gets Izy, lizy or Beth; an eleven-year-old sister Margaret, who gets Maggie or Megs; and an eight-year-old sister Josephine, Jo, Jo-Jo, or Josie. Oh yes, and my name's John. I like my name because there's not much you can do with John.

"See ya' later Ma," says my father, kissing her on the top of her head as she's bent over the sink. "See ya' tomorra' John!" he says rubbing the top of my head as he passes: I'll be asleep by the time he gets home from work tonight.

"See ya' Ma," says Geordie smiling at my mother, "see ya' shrimp!" he says cuffing me across the head on his way out.

I remember that little scene as if it was yesterday. About six months separates it from the next scene, but emotionally they're worlds apart.

The house is full of people I hardly know, and everyone's wearing black, Ma and my sisters are crying; they have been for days. Da and Geordie are lying in coffins in Ma's bedroom.
There was a cave in at the pit, Da and Geordie were among fifteen buried alive, and it took four days to dig the bodies out. Today is the funeral.
I'm not quite sure how I feel yet, it doesn't seem real; I keep expecting Da and Geordie to come through the door with black faces, laughing, just as they always did after a shift. Ma's been sleeping with me in mine and Geordie's bed, although I suppose it's just my bed now. She keeps me awake for hours with her crying; when we get up in the morning the girls look like they've been crying all night too.
Da and Geordie are in closed coffins. I heard someone say the coffins were closed because the bodies had been so badly squashed. They didn't know I was under the table trying to stay out of the way. Most people don't even realise I'm there, or think I don't understand what's being said.
I haven't been able to cry yet.
"Poor Annie!" one woman says, "What's to become of her and the bairns? Naybody's gonna to take on a widow and four poor, wee orphans!"
I can't work out why anything has to become of us.
"If you need anything at all, Annie, don't you hesitate to ask," I hear another woman say. And as Ma turns away the woman says quietly to another, "I feel bloody awful… I had to offer… but I've barely enough to keep body and soul together m'self."

Those two scenes are vivid memories, like clear pictures in my head; the rest sometimes blurs a little but is interspersed, periodically, with other clear windows so lucid they are almost like flashbacks, tying my life together like some grand mosaic.

Following the funeral, life changed so much for me and what was left of my family. Ma took in washing to earn extra money, but it wasn't long before even I began to feel the pinch: I was always hungry, for one thing. Ma would wake up at night crying with the pain in her back and her hands, from bending over the sink, scrubbing clothes, twelve hours every day. I know because she was still sleeping in my bed.
Lizy moved into Ma's bed after a couple of weeks. "No point in three of us being squashed up in one bed… while a big bed goes completely to waste!" she said one night; Ma made no comment, so Lizy moved in that night.
Ma eventually got a job cleaning offices at night, at which stage she still had enough energy left to look after us, but she still wasn't earning enough. A few weeks later she got a second job, working in a clothing factory during the day.

Other things changed too. Because Ma was working 'all the hours God sends', as she put it, our chores increased significantly. The girls started first thing in the morning: cleaning the house, washing clothes in the sink, cleaning out the fireplace if we were lucky enough to have coal the night before. I got to make the porridge, if there was any oats left, and wash the dishes when we'd eaten, all before getting washed myself and going to school.
By the time my sixth birthday came around we were all pretty used to being without Da and Geordie, even Ma had stopped crying at night. In fact she got an old single bed from Mrs McKracon around the corner and moved back to share the room with Lizy. Life goes on.

By the time I was eight years old Lizy was working in Woolworths, Durham City, and Ma was only working her day job at the factory. Maggie, Jo and I had more chores to do, but that was to be expected, they got done without too much fuss most of the time.
Lizy got a boyfriend, Bobby; he came around a couple of times a week and we all watched the television: a joint family Christmas present. At half past eight I would go to bed, Jo would go to bed at nine, Maggie at half past nine and Ma' at ten o'clock. Lizy and Bobby would then have the place to themselves until eleven o'clock when Bobby went home and Lizy locked the door.
School was always a mixed bag of tricks. I wasn't one of the in-crowd. How could I be? I didn't have a dad. I wasn't bad at my lessons: how hard could it be at eight years old? But even as young as eight I wondered what the point was; I'd have to go down the pit to help support the family; you don't need an education to work in a coalmine.

By the time I was nine things had changed again; Lizy got married. Ma said it was a shotgun wedding, and I remember being confused because I couldn't see any guns. Lizy and her new husband, Bobby, moved in after the wedding and, as Ma put it, there was a reshuffle. Bobby and Lizy moved into my room and took over my double bed, I moved in to share Jo-Jo's room and got the old single bed Bobby brought from home, and Maggie moved in with Ma. Oh yes, and all this when Lizy was three months pregnant. Lizy worked for another five months or so before she got too big, but with Ma still working and Bobby working down the pit, financially, things didn't change that much.

As my tenth birthday came around Lizy had just had her second baby daughter; Bobby managed to get them the house around the corner after old Mrs McKracon died. Maggie left school and took over Lizy's job at Woolworths and she and Ma were now supporting the house. "Life's a bit of a struggle," I can remember Ma saying, "but at least we still have a roof over our heads." I can't ever remember having new clothes; I always wore Geordie's old hand-me-downs.
I wanted to do my bit too; every year since the cave in I'd tried all the paper shops for a job; always with the same answer: "Sorry son you're too young."

The year I turned eleven, at the very first shop, Mr Cameron told me he'd give me a job. Starting at five o'clock in the morning; I still had my daily chores prior to delivering my papers before and after school, so when I eventually got home for tea at about half past five I was usually pretty tired. I generally fell asleep in front of the telly before seven o'clock when Ma would give me a shake, "Off to bed with you, son. Bed's the place for sleepin'."
I earned twelve shillings and sixpence a week and helped to support the house by paying for my own school dinners; that was five bob a week.
I had my fair share of fights, no more or less than the average eleven-year-old I suppose, but I did seem to get beaten a fair bit.
"It's the lack of a male role model," Lizy said. My sisters did tend to be a bit overprotective. I joined the local National Coal Board boxing club; it was well worth the ninepence a session, twice a week, from my hard earned newspaper money. After a while I proved I was going to be a stayer and Mr Fizgerrald, the trainer and the local greengrocer, took me under his wing.
"You've got very fast reflexes son; never seen anything quite like them, but you're a skinny wee bugger, John," he said, "You've got to try and eat a bit better."
"But we can't afford it, sir!... I wish we could… I'm always starvin'."
"You've got the paper run that comes past my shop haven't you… if you call in when you're passing in the mornings I'll give you some fruit to take home." The next morning he gave me a couple of apples and pears, and a grapefruit. "The grapefruit's important for vitamin C," he said, and every morning he gave me some fruit: sometimes apples and pears, sometimes an orange or a banana, but always a grapefruit. "And drink a glass of water first thing… it cleans out your kidneys." A glass of water and a grapefruit became part of my morning regime for the rest of my life.

This next episode is one of those clear snapshots: I'm fourteen going on fifteen, Maggie got married the previous year; she and her husband, Martin, and their two-month-old baby son, little Graham, live in my old room.
Jo's a hairdresser's apprentice in Durham; she doesn't have a regular boyfriend. In fact she's getting a bit of a name for herself: just last week, I had to give one of the boys down the street a bit of a seeing-to for bad-mouthing her.
I've been boxing for a couple of years now, I've had eighteen straight wins; three weeks ago I won the under fifteens ABA championships in Newcastle.
Ma's not very well, she's still working, but she's looking shocking these days: a shadow of her former self, she's barely forty but looks seventy. I'll be leaving school in a couple of months and going down the pit; maybe then Ma can quit that bloody factory at last.

Ma was taken to hospital last night when I was at boxing training. She's never been one to complain; wouldn't go to the doctors, we all thought she was just tired-out. By the time I get to the hospital she has passed away: tuberculosis they say.
All the same people are at Ma's funeral as were at Da and Geordie's, but this time I recognise all of them; and this time I really am an orphan. I don't have to worry about being the only one not crying this time: I'm shedding more tears than my sisters.

Martin and Maggie took over the tenancy of the house and I no longer had to go straight down the pit. I wasn't going to stay on at school though; I'd left it too late. In anticipation of going down the mine I'd done no work at school. A couple of my teachers told me that I'd be wasting my life and it's never too late to get stuck into my education, but I knew what I was going to do.
An army recruiting officer had come to the school a couple of weeks previously, recruiting for the Junior Leaders; I hadn't known you could join the army at fifteen. I'd been interested but hadn't allowed myself to get too exited; at the time I still thought I was going down the pit.

Chapter 3: The Professional

I somehow got through the entrance exam and was accepted into the Junior Parachute Company. At the end of August I boarded the London train, bound for Malta Barracks in Aldershot, the home of the Junior Parachute Company.
That first day at Malta Barracks is one of the clearest memories of my life; the day I put away children's thoughts forever; the day I became a soldier.

Collecting my gear from the quartermaster's stores, following directions to the barrack-room, I stagger in and drop my gear on the floor before collapsing, exhausted onto my bed: all in all it's been a pretty long day.
"Robert McGraw…" says the boy sitting on the bed to my left, and putting his hand out, "but call me Bobby, please."
"John Farrell… pleased to meet you."
Laughing, the boy from the bed on my right, in a distinct Irish accent, says, "Well, well, well… a Jock and a Geordie… good company indeed. Patrick Mahony, at your service… Paddy to my friends." Shaking hands the three of us bond from the very first moment.

Paddy was a Catholic from Londonderry, Northern Ireland. After his father died under suspicious circumstances, following an arrest by the notorious B Specials, he spent most of his young life in various foster homes; eventually, arrested for housebreaking, he spent time in an 'approved school'. Bobby's childhood was no cakewalk either; he was an orphan from Stranraar, a south western sea port of Scotland.
It turned out that Paddy was a boxer too, and two years running we both won the 'Junior Army Boxing Championship' in our weight divisions. I attained a 'junior' sergeant's rank and Bobby and Paddy were both corporals.
After leaving Junior Para, completing depot preparation, parachuting and getting our wings - with the final shaping into 'battle ready paratroopers' complete - we were sent to the 2nd Battalion of the Parachute Regiment, who were just about to leave for Borneo.
Paddy, Bobby and I were in the same section, and spent six months fighting a hit and run battle with a rebel militia. It was a pretty intense time, but only once did I feel in immediate danger: our platoon, eighteen men, was chasing a section, or so we thought, of rebel militia. As it turned out we were engaging a whole rebel company, eighty or ninety rebel soldiers.
My six man section was laying down covering fire, while we fought a tactical withdrawal, when we were cut off from the rest of the platoon. Completely surrounded, it was looking pretty bad: as in maybe we were all going to die.
I was the section machine-gunner; seeing a fleeting opportunity to get into a flanking position, I went for it. Taking out thirty rebel militia I managed to knock a hole in the enemy offensive and we got out by the skin of our teeth.
They made a whole big deal out of it, I was given the credit for saving my section and they awarded me the DCM.
By the time I was nineteen I was a lance-corporal, the first step on the promotional ladder and by twenty-one I was a full corporal. I had my fair share of girlfriends along the way but being single minded about my army career and my boxing I wasn't so obsessed with the female gender as most of the guys.
When I was twenty-two, while on a sniper's course, I fell fifty feet out of a tree, and ended up in the Cambridge Military Hospital at Aldershot with a severely, broken leg.

"Come along, wakey wakey…" Opening my eyes, the first thing I see is the cute little backside of a nurse pulling the screens around my bed. "Time for your bed bath, Corporal Farrell."
I can hardly believe my luck: I'm about to be sponge bathed by a golden haired angel. Struggling to rouse myself, a stupid smile on my face, I try to think of something clever to say, but all I manage is a pathetic moan, and a grimace as I move too quickly against the pulley system my leg is hooked up to
"You just lie still Corporal," says the angel, "let me do all the work for you. That's what they pay me the big money for," and her cheeks dimple as she gives me a flash of her beautiful, white teeth, while gently adjusting my position.
"Call me John, please," I manage at last.
"Alright… John; let's make this as painless as possible. In my experience you Paras, even as incapacitated as you are at the moment, try to take advantage of we poor nurses in these situations. Now… I'm going to wash from your face, down as far as possible; and then from your feet, up as far as possible," and then showing me her dimples and lovely teeth again, "And you can wash possible yourself."

The cute little angel's name was Connie and almost straight away we began a fairly serious relationship. Twelve months later we were married and Paddy was my best man. By the time I got my sergeants stripes we had a son, James after my father, and Bobby was his godfather. At twenty-four I was the youngest sergeant in the battalion, maybe even the entire regiment.

More than ten years after joining up, just before Christmas, something happened to change the way I looked at the army. We'd been in Northern Ireland for about a month and I was in the company offices talking to the clerk when Bobby came in, obviously troubled.
"John… Paddy was absent from parade this morning… He went out last night and didn't come back."
"That's not good!" It was the first time in ten years Paddy had missed a muster parade.
Knocking at the door to the OC's office I let myself in. Major Fields looked up from his desk, pen in hand. "What can I do for you, Sergeant?"
"Sir, Corporal Mahony is missing."
"What do you mean… missing?"
"Missing… Sir. As in absent from parade, Sir. As in went out last night and didn't come back, Sir."
Looking at me thoughtfully, slowly putting his pen down, he said, "Maybe he got lucky: picked up a girl last night and is running late? After all, muster parade was only ten minutes ago."
"No Sir… trust me… we joined the same day, ten years ago. Paddy is a professional. Something's wrong."
He paused, assessing the situation, and then picking up the phone he dialled a number. "We have a man missing… yes… a Corporal Patrick Mahony."

We had the whole company looking for Paddy; searching houses, gardens, parks, garbage tips and the dumpsters behind shops etc. I personally talked to hundreds of people, showing them Paddy's photograph and asking questions. After a week Major Fields officially called off the search, but unofficially…
"Listen in guys… this is unofficial… so if you're not comfortable with it I'll understand... and excuse you from tonight's patrol." We were about to go on a routine night patrol.
The platoon voiced their general assent and I proceeded to tell them my plans to split the platoon into sections and make the evening a 'search and find' exercise. "And if there are any repercussions I'll take full responsibility… Alright, let's keep this low key: try not to draw any attention."
I took the lead section along the Shank Hill Road and into the first pub. The pub was busy, with people beginning festivities early, and quite noisy, but as we entered the place fell silent. Trying to remain affable, we moved around asking about Paddy and showing his photograph, but the patrons were resentful and disobliging. Eventually, realising we were wasting our time, I signalled to the rest of the section and we started to leave. As we exited the pub began to come to life again, and one of the disgruntled patrons voiced his vexation: "Fuckin' Paras!… Think they fuckin' own the world!... You'd think they'd give it a rest at Christmas."

"It's been two weeks since Corporal Mahony went missing," said Major Fields. He was not pleased; I had been called into his office to get my knuckles rapped. "We should have stepped down the search a week ago… Now I've received orders - from on high - to stand down immediately. Some local business people have complained to the Commissioner." He sighed heavily and looked me straight in the eye. "You're a good sergeant; I should hate to loose you… Am I making myself clear, Sergeant?"
"Crystal, sir!"
"Good… Off you go."
It was the most miserable Christmas I ever experienced.

While 2 Para remained in Ulster, for the next couple of months, Bobby and I haunted Belfast on our off-duty time, dressed in civilian clothes, searching for some kind of closure. There were times when we knew we were being watched. Having been sniper trained myself, I have a sixth sense about these things: more than once I could feel a sniper's cross-hairs on us.
Paddy's disappearance was simply written off as one of Northern Ireland's unsolved incidents. When we returned to Aldershot Bobby bought himself out of the remainder of his contract; he'd only signed back on the previous year. He said he was going to spend some time in London and then perhaps go home to Stranraar. He dropped off the radar.

The week after my twenty-fifth birthday, the night I took out the ABA championship for the sixth year in a row, a promoter who had propositioned me after each championship, three years running, came into my dressing room after the fight.
"John lad…" he said warmly, "Looking as sharp as ever… Sharper!… How many's that you've won by the short route?" he asked, the cultivated voice barely giving away his Lancashire roots.
"I don't know… I've lost count; maybe twenty-four out of the last thirty fights."
"Very impressive!" he said, and then, "Actually, you've stopped twenty-eight out of thirty." He frowned then before asking, "How old are you now, lad?"
"I was twenty-five last week,"
"How many fights, all told?"
I thought about it for a moment, but I knew the answer, just as I'd known the answer to his first question - just checking to see how much attention he was really giving me. "I've been fighting since I was twelve and I've had two hundred and fifty one fights."
"Jesus!… Not many these days have had half that their entire career. Any idea of the tally?"
Without pause for thought I said, succinctly, "Two hundred and thirty inside the distance and three draws."
He gave a little whistle and said, "A commendable record, lad."
"What's your point, Mr Cross?"
"A world title. A professional world title… That's what I'm talking about."
I looked at the wily old promoter for a moment, before saying, candidly, "I'm a good boxer, Mr Cross; the best amateur in Britain, maybe? Maybe even in the world. But you and I both know there's a world of difference between the best amateur and the best professional. Besides, only black Americans win professional world titles."
"Yes, mostly," he agreed, "but not always, lad… not always!" and then, apparently changing the subject, "How's the army treating you?"
"Good… as always."
"Are you in for the long haul then?"
"I think so," I said, but feeling no conviction.
"So taking a world professional title within two years, and all the money that goes with that doesn't interest you?"
Previously, when questioned about turning pro, the answer had always been clear in my mind. I had given it some thought, in actual fact I always considered myself good enough to make it as a professional, but the Army had been my home, and the Paras my family for ten years. I was a soldier first, a boxer second, however, recent events had shaken my certainty somewhat.
"This will make the fourth year running I've spoken to you at these titles, and I guess what I'm saying is… this'll be the last time I'll ask you. Next year you will have missed the bus, as far as shooting for a world title is concerned. Every man's time comes and goes; it doesn't matter what he's doing, or going to do. And with a very physical pursuit, like boxing, the window of opportunity is pretty small.
"What I'm about to say won't, I'm sure, be news to you… You are a smart fighter, but what makes you so good is that you have the quickest reflexes of anyone, bar none, that I have ever witnessed; because of that your window of opportunity has lasted longer than most. Two years hard work, John… two million pounds, and a world title… What do you say?"
Normally quick with my reply, I hesitated, and his eyes opened a little wider; barely perceivable but I recognised the hopeful expectancy.
"Am I tempting you at last, John lad?"
"Let me talk to my wife tonight, Mr Cross, and I'll give you a call tomorrow."
"Whatever you say, John," and smiling he handed me a card. "Call me anytime… anytime."
I nodded; the smallest, enigmatic smile on my lips.

"It's your life... You do whatever you think is best," and she smiled, touching my face briefly, tenderly. "I'll support you in whatever you want to do."
Of course I knew she'd say that; that was part of the reason I loved her. I had of course already made my decision. The trick now was to keep enjoying the game for as long as it took to win the title.

We bought a house in Hampstead, London, to be close to Mr Cross's gym. My preparation for an assault on the 'Light Heavyweight Boxing Championship of the World' began.
I'd been training almost like a professional boxer for the best part of six years before turning pro: the army was good with its sportsmen, particularly if you kept winning. In fact, over the next two years, as a pro, I spent less time actually in the ring than I did as an amateur: only nine fights. The first three fights didn't last a round, the next three fights went to the third round, then another first round knockout, the eighth fight lasted four rounds, and then a second round knockout. Mr Cross was a little concerned about my fights not lasting long enough to test my endurance.
"I've lined you up a Mexican: Hernandez… You heard of him?"
"Of course, Mexico doesn't produce many light heavyweights. Gonzáles Hernández, 'The Mexican Devil'. One tough hombre - southpaw - and never been stopped." I stated, as though reading off his promo sheet.
"That's the one," said Mr Cross.
"Then we get Foster?"
"Then we get Foster," he confirmed.


CLICK ON ANY ICON TO BUY YOUR BOOK!
---
---