Hello everyone,

I know I'm a bit late with this post, but I've been a trifle bit busy these past few weeks.

I had such an interesting and fulfilling experience judging this short story competition I thought I'd share with you the article about it that appeared in The Examiner.

My thanks to all the ladies of the Society of Women Writers Tasmania for giving me the opportunity to be the finals judge, and the day itself went very smoothly and was most enjoyable. Thank you ladies very much indeed.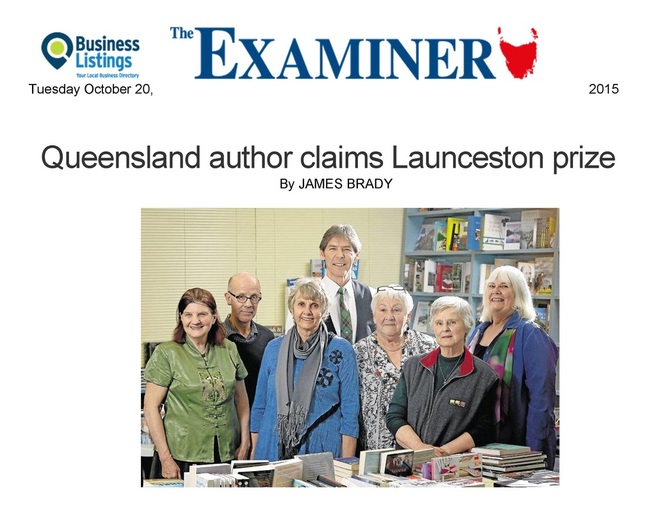 From left to right - Society of Women Writers Tasmania president Yvonne Gluyas, Volume 2 Bookshop co-owner Michael French, Society of Women Writers Tasmania secretary Ros Sydes, finals judge author T.D. McKinnon, Society of Women Writers Tasmania vice-president North Liz Russell-Arnot, Society of Women Writers Tasmania competition co-ordinator Wendy Laing, and LTLA competition co-ordinator Rose Frankcombe.
Picture: PHILLIP BIGGS

QUEENSLAND author Tangea Tansley has been announced as winner of the Launceston Tasmania Literary Award for 2015.

Top 10 finalists in the award, run by the Society of Women Writers Tasmania, was judged by renowned Scottish author T.D. McKinnon, who was present on Monday for the announcement.

Tansley will receive $1500 from the competition, modelled on Britain's Bridport Prize.

McKinnon said his position as judge was an ideal opportunity to see what standard new works were hitting.

"It's an honour," he said. "Most guys entering these competitions are trying to gain recognition, they're budding writers."

SWWT president and writer Yvonne Gluyas said the inaugural award, in 2014, received seed funding from Launceston City Council and has since been mooted for a biannual run.

"We had a huge number of entries, which went through different reading committees," Gluyas said. "The majority of them were from interstate, and we had some entrants from England as well."

She said the group was also pleased to announce patronage from Volume 2 bookshop, which has introduced its own prize for Tasmanian writers.

Lenah Valley author Caroline Flood was winner of the state prize.

The Society of Women Writers' national Alice award will be hosted by the Tasmanian branch in August next year.