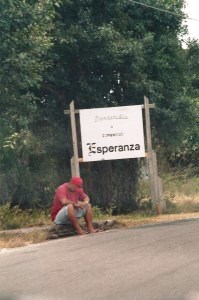 The Big Sleep
by
T.D. McKinnon

Periodically, his family sat around his hospital room talking to each other as if he was already dead. Drip fed, he had a catheter in, wore a nappy and the nurses bathed and turned him daily. But Doug didn't realise the full extent of his situation until he heard Dr Esperanza talking candidly to a senior administrator: "His chances of coming out of the coma, after four years, are almost zero. His family have given up hope and decided to switch off the life support."

Sitting at the side of the road, slumped over, asleep, he awoke with a start… He wasn't convinced he was actually waking up; so many times, was it hundreds, thousands, ad infinitum he had dreamt about waking up. This time though, the smells and the feel, he knew the distinctive sensation of physicality was real. He'd been a sixty year old Caucasian before the coma… now he was a twenty four year old Latino!

"What the hell!" he said aloud but it came out, "Lo que el infierno!" as he stood up, too quickly, stumbling onto the road; a horn from a passing car blared. Looking around, he saw the Hotel Esperanza sign, 'hope… of course!'

At the hotel he phoned the hospital…

"Si, this is Dr Esperanza…"

After relaying his story, in Spanish, he listened to the silence for a moment before blacking out.

Opening his eyes, he looked up from his hospital bed into the smiling face of Dr Esperanza.