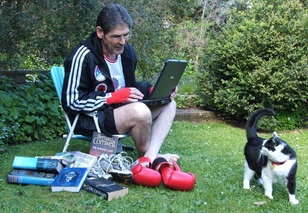 by T.D. McKinnon First published on Indies Unlimited 7th October 2012 Photo by Zoë LakeAs Indie authors we have a lot of responsibilities, listing exactly what those responsibilities are could be the subject of an entire article; however, what I'm going to be looking at, on this occasion, is just one of the aspects that we, as independent authors, make decisions about that we might not be able to if we were taking the traditional route.

We, as individuals, have our own unique way of seeing things, and that distinctive view is generally fashioned by not only our journey through life, but also the way in which we have, individually, reacted to the various stimuli along the way. Due to my particular view of this reality I tend to use certain analogies, of which many of you may now be familiar.

I began my martial arts training, initially, by learning how to box; quite a narrow aspect of fighting when you think about it: perfecting the use of two relatively small points of the body that, should verbal negotiations fail, might be used in self defence. Learning to use their fists, some people are quite happy having just that feature of the martial arts in their life; whether taking it to, what might be termed, mastery or not.

The next martial feature that came into my life was learning to defend myself under more serious conditions, in close combat situations, where my very life would be in immediate danger. Many people, after undergoing intense periods of this kind of training, are happy enough to have had the training and never feel the need to extend it or, in most cases, even continue the training.

I then became involved in a classical martial art: this can be likened, perhaps, to someone who has been involved in rock 'n' roll dancing, jazz ballet or street dancing, and who then takes up classical ballet training. The downside of belonging to one of the classical arts is that, generally, you are pretty much expected to stay within its confines; the cloistered opinion being that outside of the classics is not real martial arts. When I began to move outside of those boundaries and was cautioned, cutting ties, I became an independent.

I know people who only read literary fiction and consider, so called, genre fiction to be not real literature, and somehow beneath them. There are authors of literary fiction who think similarly.

I know people who read nothing but fantasy, or sci-fi, or chic-lit or … you get my drift? Choices; they are all just choices. Some authors write what they write because that's what they enjoy reading. Some authors find a niche, acquire a following, and choose to stay where it's comfortable, or profitable, but the point I'm making is, when it comes right down to it, if you are an indie author, it's all about choice.

My reading is heterogeneous and, in fiction alone, includes everything from literary fiction to adventure thriller/sci-fi and everything in between; also a wide-ranging mix of nonfiction. I truly delight in writing in all the genres I enjoy reading.

My point here, in relation to writing and genre, is that it is all just a matter of choice. Fighters fight, writers write; whether a writer stays within a particular genre or not – if he or she is an indie at least – it's all about choice!