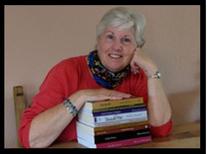 Author Melissa Bowersock
I have just received the most excellent review on Goodreads for my book 'Heather Skye Wilson Is the Psychic Warriror' by Melissa Bowersock.

Melissa Bowersock's Review Oct 24, 13
4 of 5 stars
Read in August, 2013 https://www.goodreads.com/review/show/748360465

I found the concept of this book intriguing, as it takes a very advanced view of the foibles of human nature and tries to find solutions to the struggles we have dealt with for millennia. I was especially caught up by the invention of the "sting," an implanted capability that suddenly and irrevocably levels the playing field between men and women in a very surprising way.

As Heather Skye Wilson evolves in her psychic and diplomatic training and takes on more and more responsibility in this future world of 2087, the story accurately describes the ongoing struggles to create a perfect world full of very imperfect people. Even as the most progressive thinkers work toward the goal of ensuring everyone has access to the safest, most productive potential they can achieve, other predatory forces continue to plumb the deepest, darkest corners of the human soul. The story wrestles with the most profound questions of humanity, and the answers are more complex and more surprising than you might guess.


Melissa Bowersock is an accomplished author in her own right. She has been both traditionally-published and self-published, and is a regular contributor to the superblog Indies Unlimited. She has 10 novels that range from historic romance to contemporary to spiritual to action/adventure. She also wrote and published the award-winning true story of her aunt, an Army nurse and POW during WWII (Marcia Gates: Angel of Bataan. Her latest novel, Stone's Ghost, launched at the end of July, 2013. You can find her books on amazon, barnesandnoble or on her website, www.newmoonrising.net. You can also follow her blog at http://mjb-wordlovers.blogspot.com.