Following is my entry for this week's Flash Fiction.
To cast your vote please click here - VOTE NOW!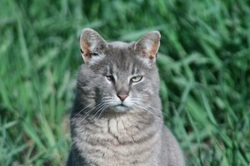 Tough Stuff - OSCAR

As the sun rose over the township, Oscar surveyed his domain. He hadn't always been Oscar, and this one eyed, battle scarred, street warrior hadn't begun life on the streets.

For two years, living in a cosy little cottage, Fluffy was the pampered, well fed companion of gentle, elderly Muriel. Never far from her lap, he'd been a cherished birthday gift: the very last thing George, her husband of sixty years, had given her before he died. When she too passed on, the cottage and all worldly possessions went to her son, Jeremy, but with a stipulation that he take care of Fluffy; otherwise everything was to go to auction, with the proceeds and Fluffy going to the cats' home.

Jeremy, a mean spirited individual, went through the motions, but from day one Fluffy was locked out, right in the middle of winter, a saucer of the cheapest cat food, when Jeremy remembered, left daily on the back step.
One night Fluffy fell foul of the local top-cat, a big feral tom, and his gang. Discovered on the doorstep the following morning, more dead than alive, Jeremy left him at the local vets, to be put out of his misery. Calling in to pay on his way home, a sorry looking, stitched up, moggy with one eye was waiting for collection.

"I saw him take on five ferals last night, all at once… a regular little Oscar De La Hoy this one. No way I'm euthanizing him," said the vet.