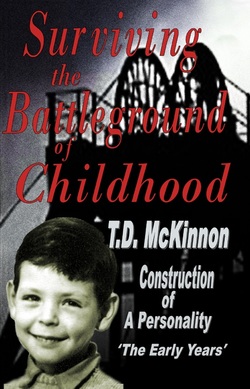 My book 'Surviving the Battleground of Childhood' will be available on AMAZON as a free download from 12:00 am on Saturday 17th November to 11:59 pm Sunday 18th November (Standard Pacific Time).
I hope you'll take advantage of this opportunity to read this book. It is a personal memoir of my growing up on the coal fields in Scotland and England and of my continual 'battle' with my father who physically and emotionally abused me, and also with the paedophiles within my own family.
I wrote this book intially as a means of healing myself, and it wasn't until I was 52 years old that I was finally able to publish my story. It took me that long to get to a point in my life where I could do what I had always wanted to do, namely become a professional writer; a long held dream from my earliest childhood, but so hard, for me, to actually begin. Why you may wonder? Well mostly life got in my way, commmittments to my family, and my own children, but eventually I was able to begin my writhing career in earnest and it has proved to be the happiest time of my life.
I began the writing of this book when I was 30 years old, when I realised I needed to 'lay the ghosts to rest' and reclaim my life, and then it was another 22 years before it was ready to be published.
My childhood wasn't all doom and gloom, far from it. I had a lot of fun mixed in with the pain. I learned to nurture and care for myself, and finally, I was able to forgive my abuserers, and leave them to their misery. It was a long, difficult road, but, as I have said, not all pain and woe.
I do hope you'll take this opportunity to read my first book. I am posting below a couple of the reviews it has received for you to read, and here's the link to follow.
AMAZON Link

Best regards
TD
* April 29, 2012 - By Alison Brady.
Couldn't put it down! This wonderful story allows you to experience the hardships and adventures associated with growing up in working class England and Scotland in the 1950s/60s. Told through the lens of young Thomas, we are privy to a frank and open exploration of his formative years. At times dark, at times funny and always hopeful, the book left me with confidence that courage and strength can prevail. Thank you!


* Nov. 22, 2011 - By Ruth Medcraft - 5 stars
"Amazing and heartfelt story about a young boy that overcomes childhood hardships and extremely difficult tragedies in his young life, and manages to turn his life around through finding the courage to overcome the many hard battles he faces. The way this book has been written was so well done and different in so many ways than many other books I have read before. Well done, an absolute pleasure to read! I laughed ,cried and was astounded with how well it had been worded to make you feel that you could see it all happening and felt relief to see our young hero succeed in the end."
* 2008 - A review by Cherrell Ward at New Book Review.org.Cherrell Ward, NewBookReviews.org
"Our New Book Review: T.D. McKinnon's 'Surviving the Battleground of Childhood' is inspirational reading! This narrative about his childhood is a revealing story about painful experiences and the everyday struggle to overcome serious challenges he faced as a child, and the strength he developed in becoming a survivor. McKinnon's frankness and fearless attitude are amplified by his ability to tell a story well! I give Surviving the Battleground of Childhood - 4 ½ Stars!"

* 2008 - Pat Qua, Acclaimed Australian painter, sculptor and musician - 5 stars
"Such honesty about the difficulties of the human condition is rare to find - some damaging problems of sex and cruelty are faced with refreshing openness. I just couldn't put it down."